News as of 9 December, 2023
---
Policy accredited by IGTF as DOGWOOD/IOTA trust anchor
Governance structure endorsed
---
RCauth.eu acknowledges the material support by its partners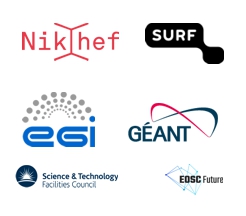 The high-availability work is also supported by EOSC Future, which receives funding from the European Union's Horizon research and innovation programme under grant agreement No 101017536
---
RCauth.eu

The RCauth Pilot ICA G1 CA issues certificates to end-entities based on a successful authentication to a Federated Identity Management System (FIMS) operated by an eligible Registration Authority – typically a FIMS Identity Provider (IdP) operated by an academic or research organisation. The certificates issued by the RCauth Pilot ICA G1 CA are valid for a period of at most 13 months, but may be as short as 1Ms.
The certificates for use in science, research, and innovation, specifically for the purpose of (cross-organisational) distributed resource access, solely in the context of academic and research and similar, not-commercially competitive, applications.
The RCauth Pilot ICA G1 certificates are primarily intended for the practitioners of scientific research that are supported enabled by or work in collaboration with the EC co-funded project on Authentication and Authorisation for Research and Collaboration AARC, and its successor, ancillary, collaborating, and affiliated projects, infrastructures, communities and endeavours, appropriately taking into account the global nature of research and collaboration.
Support for users and infrastructure service managers
The RCauth.eu service provides PKIX certificates for end-users only through pre-validated credential management services (Master Portals or Token Translation Services). End-users cannot independently obtain certificates or delegtations from RCauth.eu, but need to use a trusted request portal and credential repository. Those are usually provided for you by your research or e-Infrastructure.
- If you are a service manager or Infrastructure representative seeking to use the RCauth.eu service, contact us for registration by email at ca@rcauth.eu.
- If you are an end-user and you cannot find your home organisation or preferred Infrastructure in the list of known authentication sources, please contact your own organisations' or Community help desk and request them to assert compliance to the REFEDS Research and Scholarship and Sirtfi security incident response specifications to their federation operator.
- If you are an end-user, you find your organisation, but after login the RCauth service states "You don't meet the prerequisites for accessing the service", contact your community or home organisation help desk to verify you are deemed by them eligible for the RCauth.eu service. Your home organisation will be able to answer this question most quickly.
Policy guidance
---
Previous policies
there are no previous versions
Technical information
---
ICA Certificates
Certificate Revocation Lists